Fiber laser Application:
Widely used in electrical equipment, kitchen, elevator, advertising signs, autodecoration, sheet metal production, lighting hardware, display equipment, precision parts, metal products and other industries;
Laser
Processing Materials:
Able to cut a variety of sheet metals, stainless steel, carbon steel, galvanized sheet, electrolytic plate, brass plate, aluminum, manganese steel, various alloy plates, rare Metal and other materials,

Fiber Laser Machine Principle:
It funtions by working highly focused energy and density spot of laser onto metal work pieces, causing the thermal zone melt and vaporized. Under mechanical motion control, automatic laser cutting is realzied. It is currently one of most advanced processing technologies which involves Fiber Optics, CNC Control and Precision Mechanics

Machine Details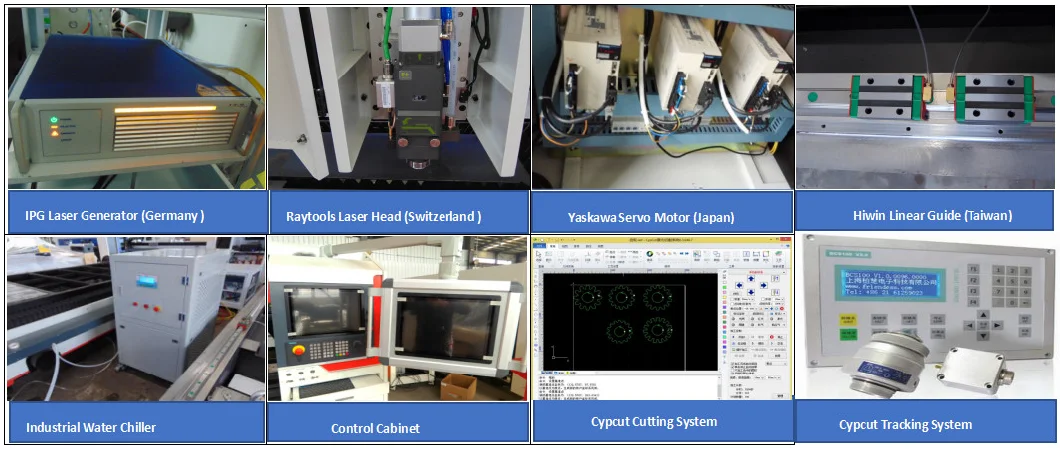 Parameter:
M

odel

FLX3015-700W

FLX3015-1000W

FLX305-1500W

FLX3015-2000W

FLX3015-3000W

Working Size

3000*1500mm

3000*1500mm

3000*1500mm

3000*1500mm

3000*1500mm

Optional Size

2500*1300mm

4000*1500mm 4000*2000mm




6000*2000mm

4000*1500mm




4000*2000mm




6000*2000mm

4000*1500mm




4000*2000mm




6000*2000mm

4000*1500mm




4000*2000mm




6000*2000mm

Laser Generator

IPG/Raycus/n-light

IPG/Raycus/n-light

IPG/Raycus/n-light

IPG/Raycus/n-light

IPG/Raycus/n-light

Transmission

X/Y Rack and pinion, Z ball screw drive

Re-locating Accuracy

±0.03mm

±0.03mm

±0.03mm

±0.02mm

±0.02mm

Max Traveling Speed

120m/min

120m/min

120m/min

120m/min

120m/min

Acceleration

1.0G

1.0G

1.0G

1.2G

1.2G

Power Supply

AC380V/50(60)HZ

AC380V/50(60)HZ

AC380V/50(60)HZ

AC380V/50(60)HZ

AC380V/50(60)HZ
Product Features:
1. Rigid machine body obtained through standard annealing process in high - temperature electric furnace, ensuring precision in the long term
2. Imported original fiber laser generator with super beam quality and stable performances, laser passes through fiber without reflectors, free of light path adjustment, maintenance free, service life up to 100,000 hours
3. Photoelectric Conversion Efficiency (PCE) by 30%, far more higher than CO2 laser or YAG, which saves much of energy cost.
4. Imported precision motion parts and servo motors, which support high-speed running
5. Capable of cutting various graphics and words, which makes work simple , flexible, and convenient.
6. Smooth cut without deformation.
7. Extremely low energy cost, which accounts only 1/3-1/5 of YAG machine if output powers were the same, environment-friendly.
8. Solid-state laser type, which supports multimode integration with multimode power outputs, able to cut a variety of sheets with fair speed. In addtion, it supports air cutting thin sheets, greatly shortening period of ROI (return of investment)

High-end Solution with Germany Beckhoff System (2000/3000W)
In order to meet various needs of customers, we also import Germany Beckhoff System, with powerful performance and high processing efficiency, we believe it will be of great help to your production and which will bring great benifit and return of inverstment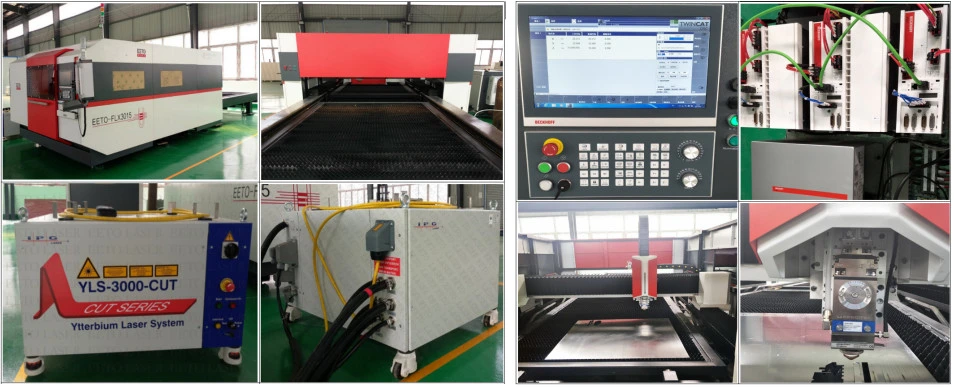 1.This machine adopts enclosed structure, the door opens in the front with sliding design, very convenient
2.The screen hung overhead is a monitor with 17" size, you can see the real-time images of the machine working
3.This machine adopts 3kw wormous Germany IPG laser generator, with multi-mode design, service life over 100,000h.
4.
Germany
Beckhoff CNC and motion system, which realize fast and precise control of motion
5. Adopt Germany
Precitec
laser cutting head, ensuring perfect cuttign quality
6. All the parts that generate heat will be cooled, as you see the the first picture of electrical cabinet above is chilled by an air conditioner, ensuring safety
7. High quality industrial water chiller, using due temperature control, by setting permanent temperature value, it will make sure all the cooling units are under perfect conditions.
Cutting Samples: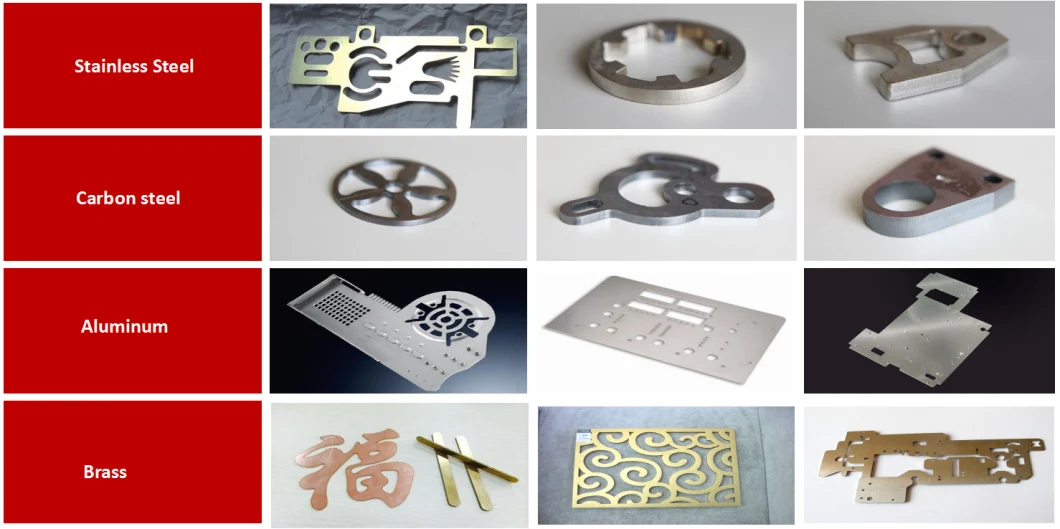 Standard Package
Package and Delivery are of great important part in aftersales service, we provide all-round and complete services to customer to make sure your products arrive safely without damages. For packaging.
1. We use wooden cases that meet international export standard
2. All the motion parts are lubricated and covered with firm to avoide direct air contact and thus prevent getting rust.
3. The whole machine and parts are well packed and fixed inside of the wooden case without moving or sliding inside.
4. The inner space of the wooden case will be
made into vaccum
to keep dry and the plywood case will be covered with
waterproof cloth to stop rain drops or sea water from entering the wooden case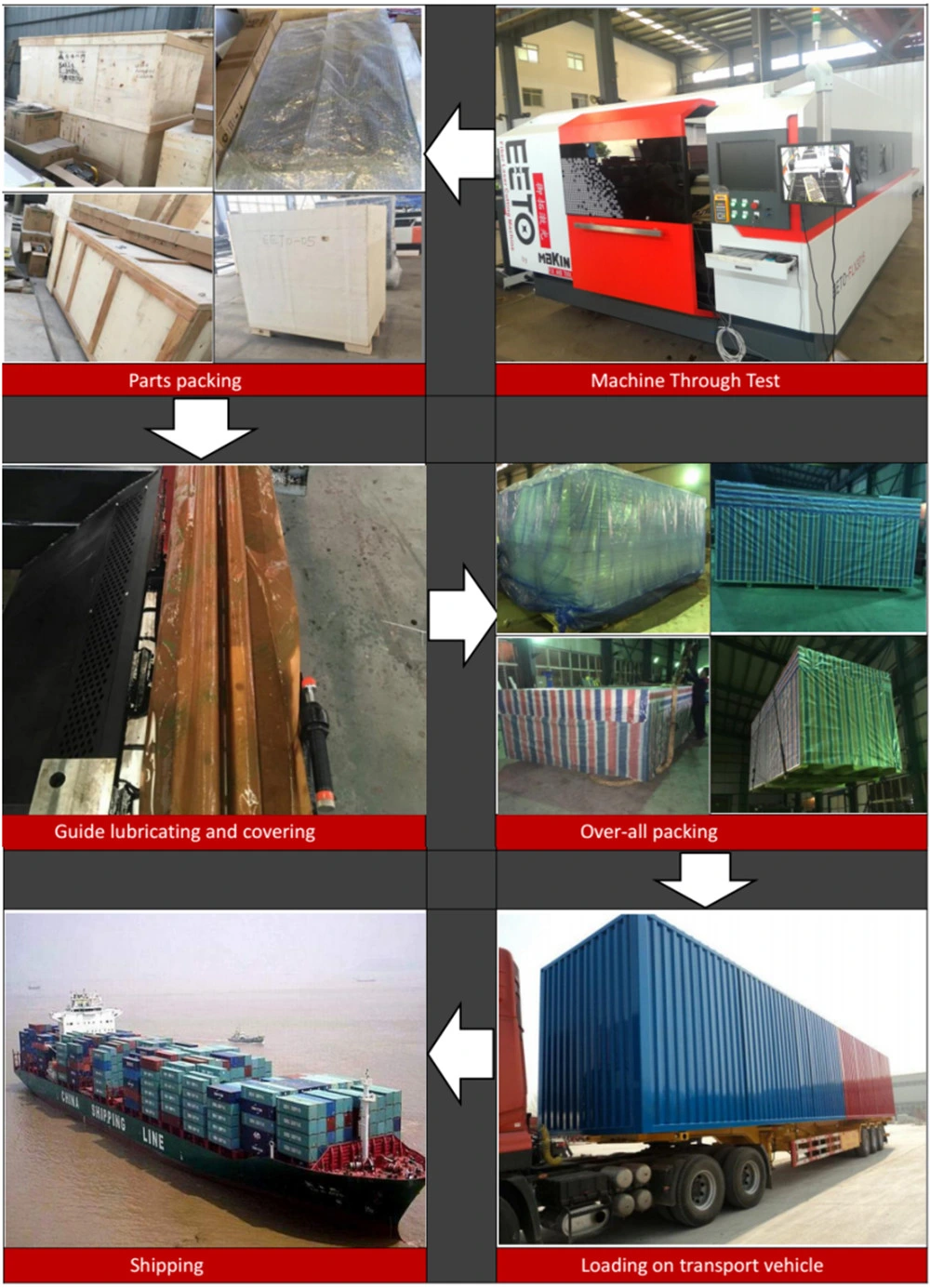 Aftersales-service:
1. Based on Service-oriented conception, complete pre-sales and after-sales services for customers will be provided like installation, testing, training and maintenance.
2. Before signing a contract, parameters and processing technics will be explained and given to customers to make product fully comprehended.
3. After signing a contract, transport vehicle or ship will be arranged to carry goods to the appointed location within delivery period, and engineers will be sent on site later for installation, lasting 1-2 days.
4. Training period takes about 3-4 days till all the operations are perfectly performed under regulations.
5. We promise to visit our customers once a year ,during the visit, we will help them with machine maintenance, operation, and enhance their knowledge and operation skil
Power-on/off procedures
Operations of control panel ;
Parameter setup
Operations of software; Clean and maintenance
Common hardware troubleshooting; Warnings during operation.
Extra Tech Support
Two-year warranty guaranteed from EX-factory, meanwhile, lifelong maintenance succeeds after warranty. Any malfunction or damage occurs during warranty ( man-made causes and force majeure exclusively), please email or call us immediately, professional engineers will be arranged on the resolution, all the charges are free including cost of changing new parts (consumable parts excluded).
Our promises: 24 hours on-line service and response time less than 2 hours
15 days after signing a contract, a layout drawing will be sent to user( including preparations on foundation, water, electricity, gas, air/water pipe, interface, etc). Preparatory works and space spared for machine installation are required on user side . Professional engineers then will be dispatched after all these preparations are finished, In order to run everything smoothly, on-site assistance from user side will be quite necessary.

FAQ:
Q: What's working area of our fiber laser cutting machine?




A

:

Our standard size: 3000*1500mm, 4000*1500mm, 4000*2000mm, also we support tailored type if customer has special requirements





Q: What's the laser power of your fiber laser cutting machine?




A

:

We have laser power from 300-4000w, able to different metals with varied thickness




1. Low power 300W, 500W, 700W, 750W, 1000W, which cut metals lower than 10mm




2. Medium power 1500W, 2000W, able to cut steels up to 16mm




3. High power 3000W and 4000W, extending cutting capability to 25mm





Q: What materials can we cut? What's

cutting thickness of fiber laser cutting machine?




A

: Fiber laser cutting machine can cut most metal materials, including

carbon steel/stainless steel/aluminum/galvanized sheet

, but high reflective materials are restricted to be cut with fiber fiber, like

brass/silver/bronze

, if you have such material to cut, please connect us for professional advice




B

:

Cutting thickness from 0.5mm to 25mm according to different laser power.