SEARCHING FOR A SMALL PORTABLE AIR PLASMA CUTTING MACHINE ?
The DECAPOWER CUT-45 KOMRESSOR is an inverter-based Plasma cutting machine produced using the latest in IGBT technology. This machine is reliable, robust and stacked with features that you can expect from a quality Plasma Cutter. The CUT-45 KOMPRESSOR produces a high temperature plasma stream providing effortless cutting of all electrically conductive materials including steel, cast Iron, stainless steel, copper, aluminium brass etc . The CUT-45 KOMPRESSOR is equipped with a high quality S45 Plasma torch with Euro connection,developed specifically to enhance and improve the cut quality of the CUT machine. Connection of the S45 Plasma torch provides effortless starting of the cut with powerful, fast and accurate cutting capability, additional is the benefit of longer life cycle consumable electrodes and cutting tips.

The CUT-45 KOMPRESSOR is an exceptional machine that is suitable for a wide range of applications including sheet metal fabrication, light industrial use, site work, automotive, ducting work, repair and maintenance services.

The CUT-45 KOMPRESSOR is packaged with a tough S45 Plasma torch, earth lead and air regulator. The CUT-45 gives you the best of both worlds great portability, with the power to get the job done.

Built to our
specification and manufactured in compliance to AS/NZS 60974-1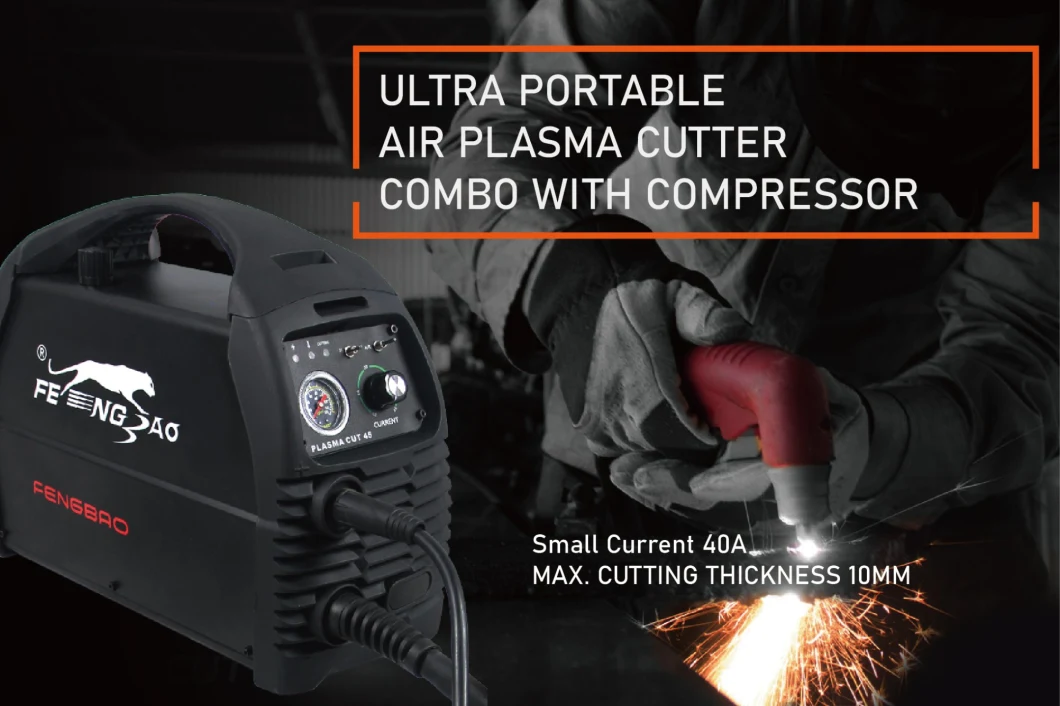 A CUT ABOVE THE REST:
- CUT-45 KOMPRESSOR is a single phase inverter Plasma Cutter combo with small air compressor pump capable of clean cutting 8mm mild steel and evering 10mm mild steel.
- The machine is light weight and extremely portable and is suited to light to medium industrial work.
- This powerful machine is perfect for site work as well as panel and fabrication work.
- The machine comes standard with 4 metre torch making it extremely versatile for making cuts away from the machine itself.
- The torch can be used in either 2T or 4T modes making it more comfortable for longer cuts.
- Optional extras for the machine include an air filter unit to maintain clean and dry air as well as a circle cutting kit with roller guide.

Product Model:
CUT-45 KOMPRESSOR
Product Description:
IGBT INVERTER PILOT AIR PLASMA CUTTING MACHINE
Rated Input Voltage:
1phase, 230V +/- 15%
1phase, 120V/230V +/- 15%
Rated Input Power:
5.5Kw
Frequency:
50/60Hz
Output Current:
10-40A
10-30A
Rated Duty Cycle:
40%
Plasma ARC Start:
PILOT - LF
Air Flow Pressure:
2.5 Bar (35psi)
Air Flow Rate:
6.7 CFM
Cutting Thickness:
Max. 16mm
Class of Insulation:
F
Protection Level:
IP21
Power Plug:
20A
Size & Weight:
Product Dimension
570x280x450mm
Poduct Weight
14Kg
Package Dimension
620x320x480mm
Package Weight
18Kg
Accessories:
1x S45 CUT TORCH with 3m cable
1x 300A Ground Clamp with 2m cable
1x CUT Torch kit
1x Manual Book