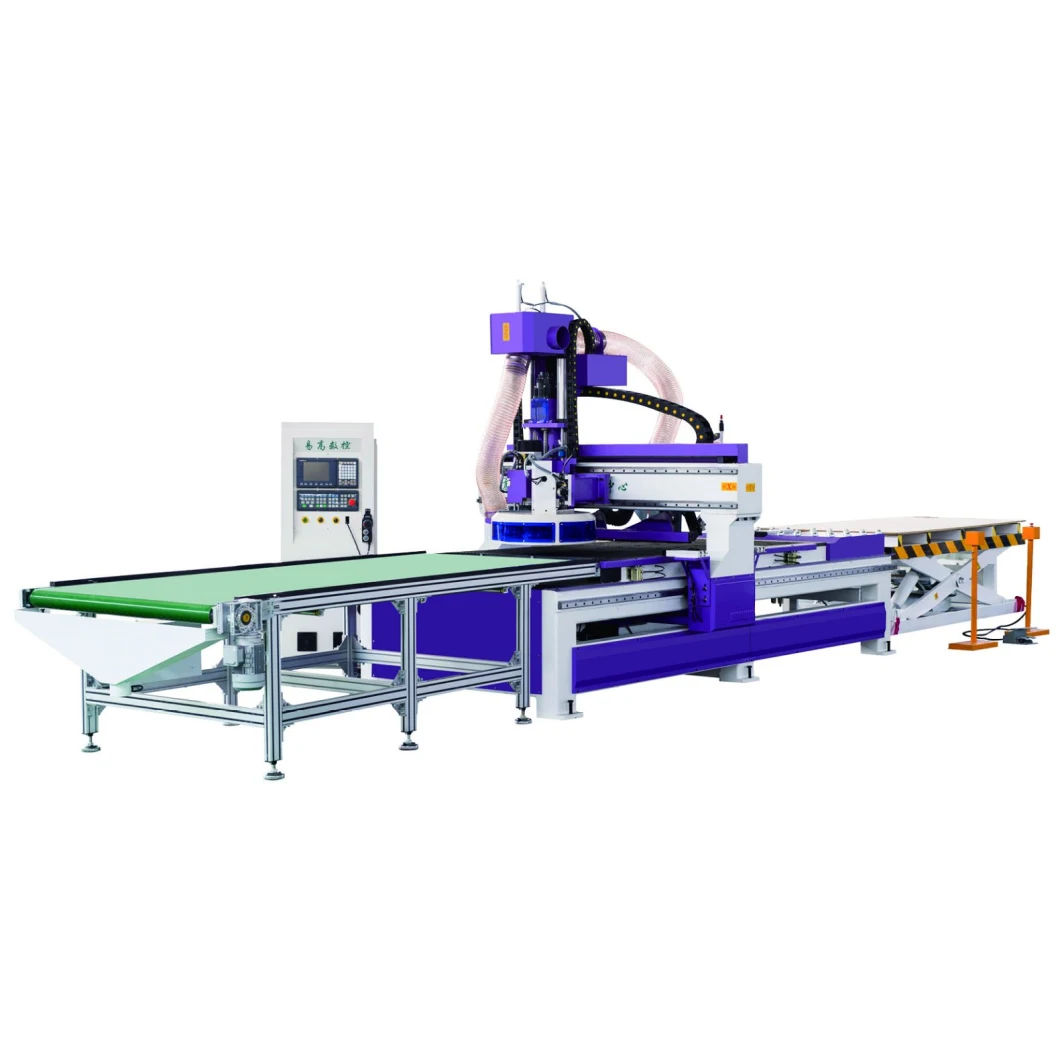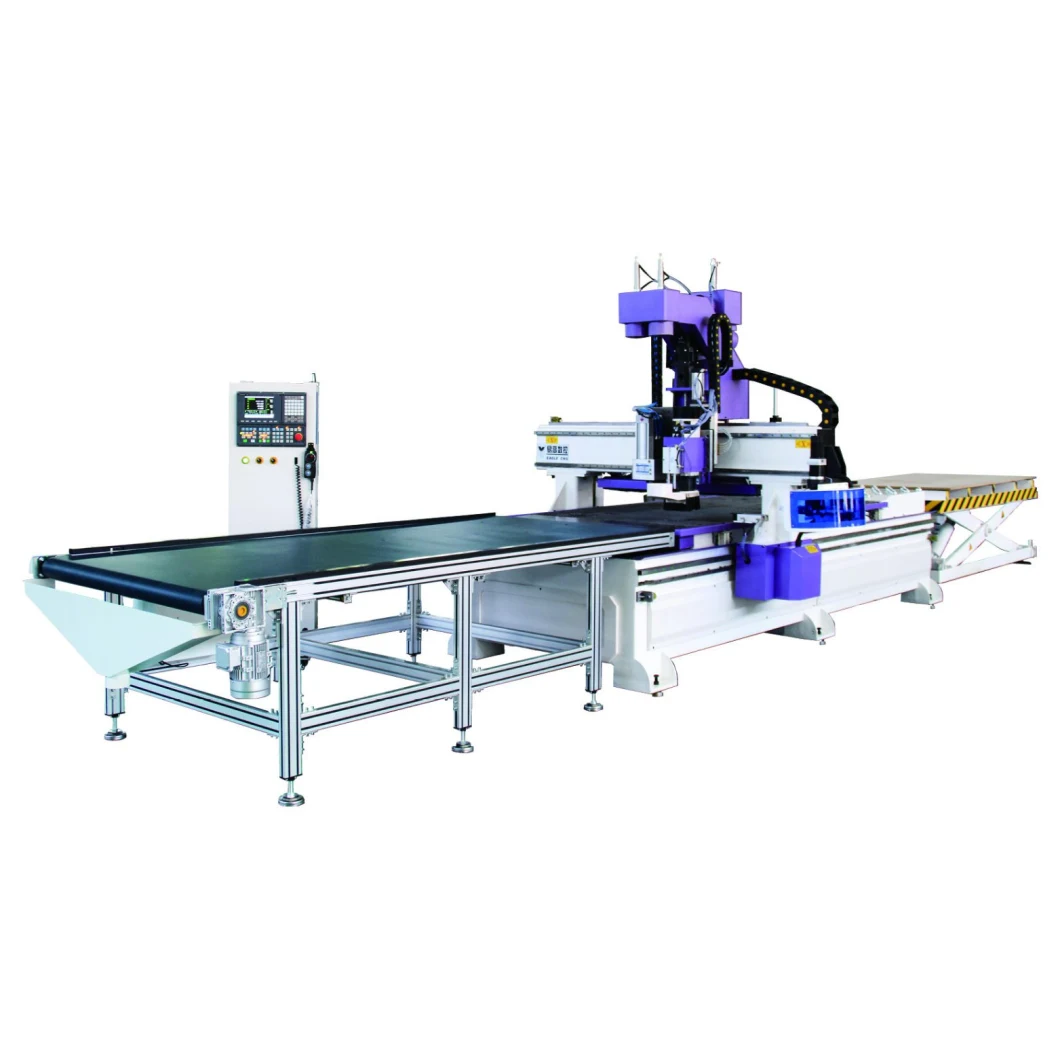 main accessories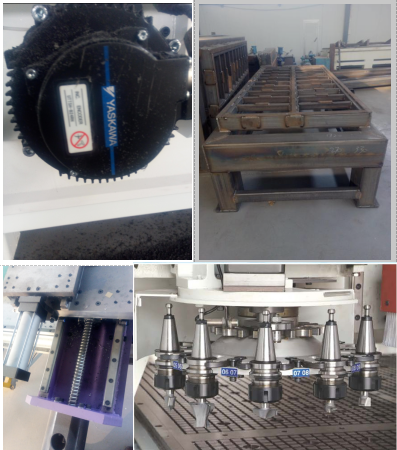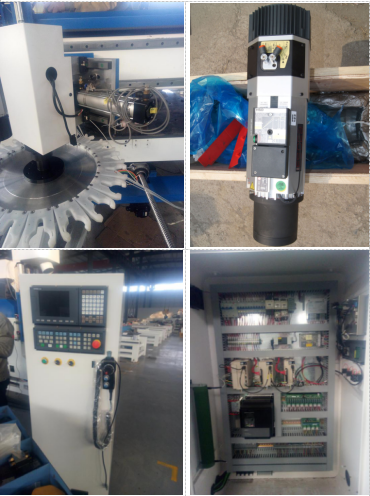 Applicable industry and materials
1. Woodworking: all kinds of doors, windows, cabinets, wooden craft, paint doors, screens,
process window, wave board processing and other furniture, wooden processing.
2. Advertising industry: advertising signs, labeling, advertising material cutting, plastic molding, LED neon
advertising and other materials produced decorative products
3. Craft industry: a variety of exquisite designs and text engraving on wood, bamboo, artificial marble,
organic board, color plates, crystal and other materials.
samples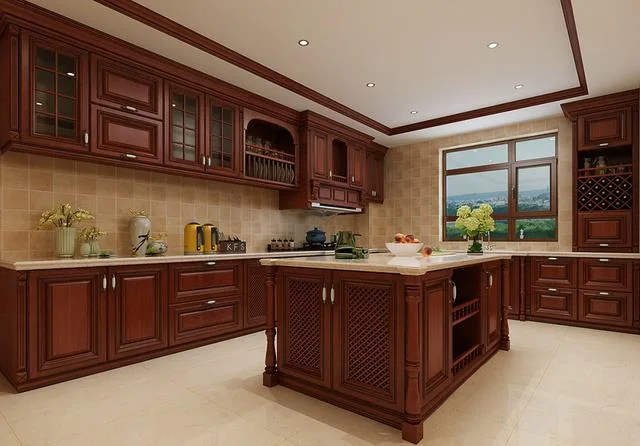 Products features:
1.heavy-duty thick -walled square tube lathe in good rigidity,is capable of large workload ,maintaining solid shape and non-deformed .
2.High -end CNC control system from Taiwan,achieves automated intelligent control on functions,such as work area protection ,processing cross-border protection auto working speed.off-line operation of multiple levels of 3d processing is capable.
3.Advanced documents pre-processing functions ensures speed and accuracy of operation.
4.Control pannel of 7'Led,multi-partition keyboard provide convenience and independence for user.
5.Automatic tool changer saves time for manual tool changing to improve efficiency.
6.Servo system from Japan is the core of drive system,with a large torque and complete security system.
Application:
Wood products processing : sewing machine table ,electrical counter table,sports equipment.
Furniture decoration industry: al large area flat plate engraving ,wood ,panel furniture carving ,wood cabinet doors carving.
Musical instrument industry: instrument three-dimensional surface engraving ,shape cutting
Electronic industry: circuit board,insulation material,LED display screen.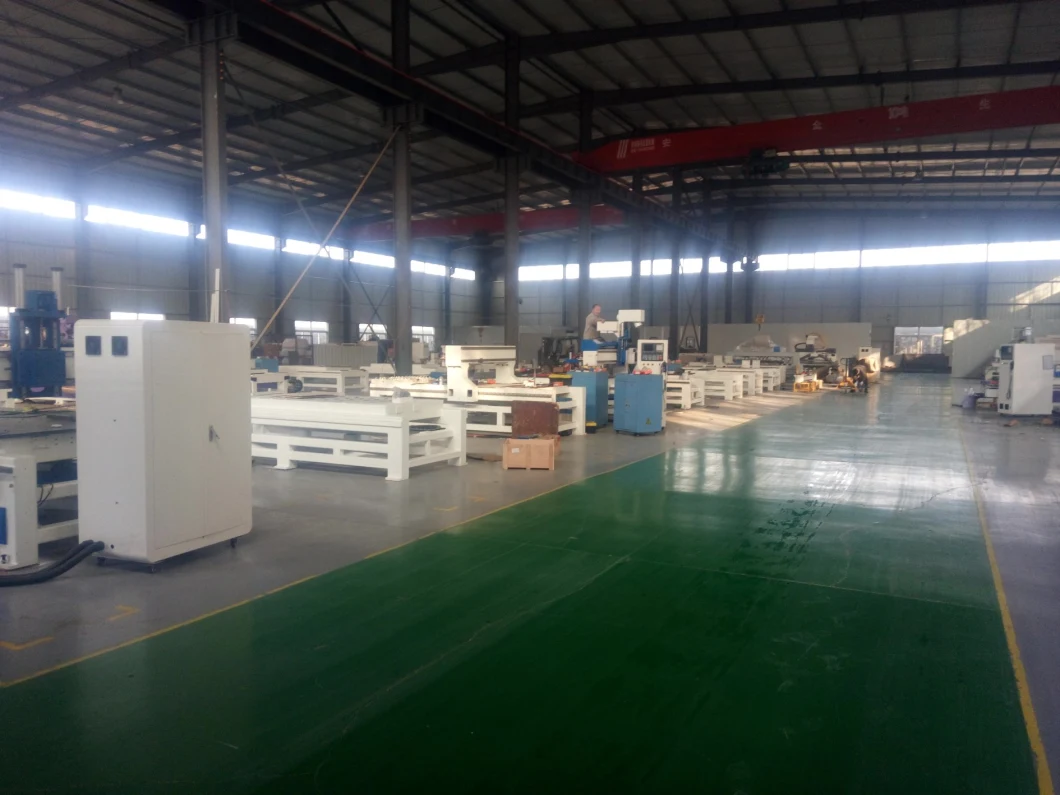 Technology parameter
name
size
brand
description

spindle

9KW

Italy

Famous brand

Drill unit

5+4

Italy

High precision/stable performance

Control system

SYNTEC

Taiwan

Friendly/stable

operation interface

Rail

X\Y30,Z25

Taiwan

5000 km maintenance free / 3 layer LACAS dustproof

Servo motor

SYNTEC

Taiwan

High symmetry / high speed / high precision / wear resistance

Vacuum table

Vacuum table

CHINA

The world's top quality / quality stability, strong adsorption

Rack

M2

GERMAN

High speed / high precision / wear resistance

reducer

VRSF-8C-850-LV

SHIMPO

Vacuum pump

KVT3.250

CBM/Hour

7.5KW

pump

High adsorption force

Dust collector

4KW

double bags

Made in china

thermorelay

LRD21C(12-18A)

CHNT

Famous brand

AC

contactor

LC1D18M7C

CHNT

Famous brand

Cable drag chain

2600.07.075.0

shanghai

High flexibility: more than 300,000 times of bending resistance

auxiliary

Automatic up and down

Made in china

lubrication

system

automatic
product description:
Change the tradition, no need to push the table saw, no professional woodworker, no professional draftsman, suitable for cabinets, wardrobes, panel furniture, furniture, office furniture, wooden doors, etc. Fast processing speed, good stability and high precision. Over the years, we have always been committed to creating stable and reliable products, surpassing the expectations of our customers, and constantly strive to innovate. It has set up branches in Shanghai, Beijing, Guangzhou, Zhejiang, Fujian and other places.
Adhering to the concept of "integrity, quality, innovation", we have great dreams, and we will create value for our customers with excellent products and perfect after-sales service, and strive to become a company that is respected by customers.
core advantages :
Function: The product belongs to the heavy-duty machining center and is suitable for engraving, boring, drilling, cutting, chamfering and other diversified products.
Structure: The fuselage is welded by high-strength thick-walled steel pipe. It is annealed and sandblasted for anti-rust treatment, and the deformation accuracy is guaranteed.
Accessories: The products are equipped with world-renowned brands such as German rack, Taiwan screw guide, Japanese speed reducer and other high-end accessories.
Accuracy: Excellent accessories and precise inspection devices make the product achieve perfect positioning and running accuracy.
High speed: High-power 1500W servo motor and precision reducer are directly connected to the design, high torque, high kinetic energy and high efficiency.
Countertop: Sai Cheng Yi Gao special vacuum warehouse countertop design, the structure of the solid sheet is not easy to deform, the adsorption force is more powerful.
Tool magazine: equipped with 20 stepless variable speed servo tool magazines, super fast tool change, low failure rate and higher precision.
Technology details

Run speed

80-100

m

/

min

Working speed

12

~

30

m

/

min

Spindle power

9KW

ATC spindle

Spindle speed

3000

~

24

000

rpm

Tool magazine capacity

16

pcs

,with a full set of handles, collet.

Control system

SYNTEC

Servo motor

SYNTEC

1.2KW

Ball screw

HIVIN

Transmission system

HIVIN rail

,

PMI

φ

3210

ball screw

Electrical components

Hpmont-11KW

inverter ,

CHNT

switch,Shanghai high-flexible shielded cable

Table model

Special design structure, super vacuum adsorption table (specific technical process confidentiality)

Other accessories

Swedish SKF bearing, Taiwan Yadak Airtac cylinder

attachments

7.5KW water circulation vacuum pump, 4KW double cylinder high power dust collector

Processing size

1

300

*2

500

*18

0mm

Dimensions

3

600

*2

400

*2

100

weight

3

.8

T

Total power

2

0KW

voltage

380V/50HZ

Gas standard

recommended to use a 15KW screw air compressor with a 1.5 m high gas storage tank.

Wire standard

The machine uses 10 square four-core copper wire / vacuum cleaner vacuum pump with 6 square four-core copper wire
contact with us